Destination Weddings
Let Amanda plan the perfect wedding experience so you can relax and make memories that will last a lifetime
Get in touch
I can make your wedding dreams come true!
You Want:
To bring your wedding dreams to light and find you overwhelmed by the process?
To celebrate at the beach, but are not sure which Caribbean destination will have what you are wanting.
Your friends and family to celebrate with you and want to hand all the travel planning to someone who is knowledgeable, friendly and professional.
Has been planning destination weddings and group travel for almost a decade.
We have travelled across the Caribbean and explored the best resorts to offer first-hand knowledge.
Provides customized experiences, bringing your dreams to life.
Are travel professionals who take care of every detail from managing RSVPs, to arranging transportation and making sure that your guests have the time of their lives.
Offers personalized and organized planning tools along the way.
Remembers the thrill and stress of being newly engaged.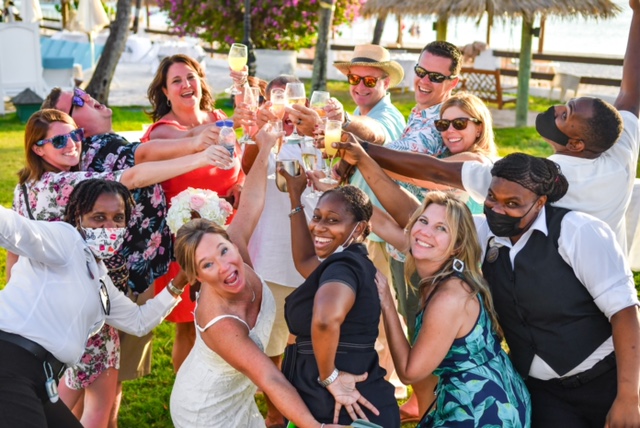 We know you are dreaming of a beach wedding with the sand in your toes, sunset on the horizon and the fresh sea air. We know you want to have a celebration that begins when your guests land to the time they get on the plane to go home, tired and sunkissed. You want a wedding that is customized, meaningful and that you will look back on the photos and remember the joy of the day.
You do have to select your bridesmaids and groomsmen, make the guest list and plan what your wedding colors. But you don't have to plan which flight grandma will take or how your maid of honor will get to the resort or make sure your besties are all in the same room.
You can enjoy the celebration of being engaged without worrying about missing a deadline, because our interactive planning tools will keep your wedding planner and you on target.
Whether you are planning an intimate ceremony or a large party with 500 of your friends, we can make sure you all leave with memories that will last a lifetime and bring you joy.
The minute Bill and I knew we were going to have a destination wedding with our closest friends, there was no doubt in our minds, Amanda was going to be the one who coordinated our perfect destination wedding.
From the first time we told her what our ideas were, she immediately started working on possible locations. Knowing we wanted a very specific date was absolutely no challenge. She suggested a few different islands, and we ultimately chose Antigua in the West Indies.
We invited nine additional friends to join us on this amazing trip. Amanda made sure we had custom bags and passport folders, and all paperwork before setting of internationally. Amanda coordinated everything for them as well, from airfare to romantic dinners, and our snorkeling and sailing excursion. While we were there, she even texted us to make sure all was going as planned…which it was. She didn't miss a beat.
Bill and I are planning another international trip in November that Amanda as seamlessly arranged as well. If you and your loved ones are planning any kind of trip, I highly encourage you to visit with Amanda. She has a wealth of knowledge to share.